---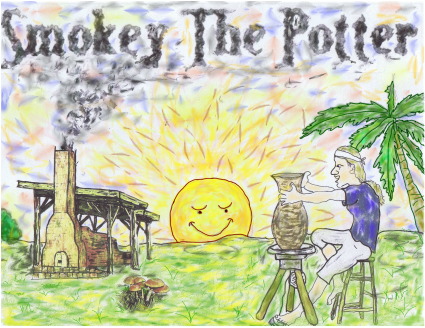 Welcome!

Handmade Pottery
by
Smokey The Potter

Featuring
Smokey's Wake and Bake Pipe Mug




---
---


Shopping available using PayPal at the
Smokey The Potter Store.
Smokey's Wake and Bake Pipe Mug is also available on EBAY.


Smokey The Potter does not want to participate in a community that censors their artists therefore, our products will no longer be available on Etsy.



---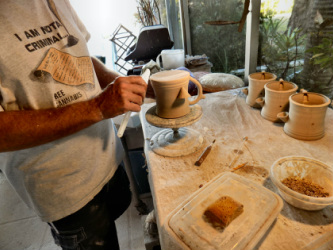 Smokey started his pottery career in high school and has studied every aspect of the art form - from building his own tools and equipment to formulating the chemistry of the clay and glazes. He has more than 40 years invested in his knowledge and ability of mastering the ceramic arts.
Presently Smokey has been creating functional pottery and unique items for multipurpose use. Working in stoneware and porcelain every item is made of high quality products and food safe glazes.

Cleaning Smokey's Wake and Bake Pipe Mug.

Smokey suggests using a pipe cleaning solution, spray or use a cotton swab/ ball to saturate the area to be cleaned. A pipe cleaner may be needed for build up. Let this soak for a few minutes. Rinse with warm soapy water. Smokey's pipe mugs are made of stoneware so they can go in the dishwasher for a thorough cleaning. If you need to completely dry the inside chamber you can put in it the oven and heat oven to 250º Fahrenheit for about 15 minutes.

I use the dishwasher for basic cleaning, but I also use a pipe cleaning solution on the bowl and the intake of the handle. I also run a pipe cleaner with solution in the handle to clean it.

As with all ceramic bake ware, it is best to avoid sudden temperature change. This can "shock" the piece and may cause cracking. We recommend if you want to take your pottery from a cold temperature and put it in the oven, let it heat up with the oven – don't put it in a hot oven. The same goes for hot to cold; if your pottery is hot from the oven let it cool before running it under cold water or placing it in the refrigerator. This will help make your pottery last many years.

A little bit about clay used in pottery.

You will see different types of clay mentioned in the "description" of items. To help make this a little clearer for you I thought I would briefly summarize the differences between the most popular clays used.

In basic terms low fire clay is referring to clays that are often: earthenware and terra-cotta, where as the term high fire is usually generally used describing stoneware (dinnerware) and porcelain clays.

Earthenware (Almost never used by Smokey)

Earthenware is basically unrefined clay. It is fired at 1915 degrees F, which is the lowest temperature used in pottery. It also means the end piece is porous, chips, scratches and is not as strong as stoneware or porcelain clay. Once it is glazed it becomes non porous but still chips and scratches easily. It can also be high in lead content because the clay is not as refined as stoneware and porcelain. Low fire glazes can be used on earthenware but may contain lead, the plus side is you can get more vibrant colors in low fire glazes. Be very careful where the product is made and who you purchase from!

Stoneware (used frequently by Smokey)

Stoneware is usually fired at around 2100 degree F. to 2400 degree F. Brightly colored glazes become more difficult at such high temperatures and need to be thoroughly tested for consistency.

Stoneware is very durable and chip-resistant even before it is glazed. It conducts and retains heat well so that you can use stoneware in the oven and microwave. Something you don't want to do with earthenware. Higher quality dinnerware and bake ware such as Pfaltzgraff and Chantal are made of stoneware.

Porcelain (used frequently by Smokey)

Porcelain is fired at 2300 degrees F to 2400 degrees F which results in a strong, durable and translucent piece of pottery. Porcelain is very hard and safe to use for food as it is a non-porous surface. It's dishwasher safe, but is not always oven safe as it can also be delicate.


---
#

Paraphernalia Weed Pipes And Bongs Stoner, Bowls And Bongs, Bowls Bongs, Dark pretty mine bowl 420 stoner crystal glass pipe piece wake n bake Plays Continuing, Dice Together, Remain Players, Stoneware Smoking, Good Time Cannabis, Ceramics Owl, This Is Awesome, Owl Pipes, Glasses, Mary Jane Smoking.

See more about Coffee Mugs, Glass and ceramics / Smoking paraphernalia. KUSH n coffee board Glass, my pipes are thrown on the Potters Wheel using Stoneware clay. Marijuana and coffee are two great tastes that taste great together. Smoking Pipes and Bongs is a highly efficient means of imbibing your favorite tobaccos and legal smoking blends.

What are vaporizers and why people use them in smoking marijuana?

Vaporizers in a headshop basically give the marijuana smoker the intense high they're craving for without worrying about inhaling the toxic and noxious stuff that comes from burning marijuana seeds. Vaporizers do a better job of cleansing the smoke than simple headshop bongs and bubblers because the heat used (180-200°C) in this method is enough to release cannabis smoke but not enough for the release other carcinogenic chemicals. This makes smoking pot an equally enjoyable and safe experience for the smoker.

However, vaporizers cost a bit more than your ordinary headshop pipes, bubblers, and bongs. But hey, would you rather spend the extra dollars for health complications than for preventing them in the first place? Our Smokey offers top-of-the-line vaporizers in cheap, discount prices that would afford you the luxury of pot smoking sensations while still keeping your lungs as healthy as a horse. Hash smoking should not be at the expense of your health, and these cheap vaporizer purchases will assure you of that!

Why should you use bongs smoking cannabis?

Smokey bongs are basically like pipes in that there are bowls and straw-like parts involved in its structure, except that it's water-based. This water cools the usually uncomfortable heat of cannabis smoke, especially for newbie marijuana smokers. Some chemicals that come with pure marijuana smoke are also filtered and left behind in the water, making the smoking experience much smoother and cleaner for most marijuana smokers. Some people recommend adding ice or cough drops for added smoothness in the smoking experience.

Purchasing Smokey bongs for smoking cannabis is never a problem, as we offer various types of bongs available for cheap, wholesale discount prices. There's such a thing as "gravity bongs," which give the marijuana smoker a more extreme amount of concentrated smoke to inhale and therefore provide a more satisfying marijuana smoking experience.

What is pipe and why people use it in smoking pot?

Smoking pot using Smokey's pipes guarantees a "one-hit potential," wherein a lungful of marijuana is put inside a bowl with a metal screen and a stem through which the marijuana smoke will pass through. Instead of inhaling the marijuana, you gulp its smoke as if you were drinking from a straw. This method allows you to control the amount of weed intake per given time as well as save more quantities of weed burned.

The availability of various headshop pipes for smoking marijuana in cheap, wholesale discount prices makes it a popular method of smoking pot. Smokey's pipes are simple devices that require virtually no rocket-science level of manipulation; just put the weed in the bowl, light it, and inhale! Pipes are therefore an accessible, easy, and very adaptable way of enjoying ganja. With the vast array of these cheap pipes for smoking pot available in our headshop, you won't need to look anywhere else!

Marijuana Baking - Pot Brownies Pot Brownies 1 1/2 cup flour 3 tablespoons shortening 2 tablespoons honey 1 egg (beaten) 1 tablespoon water 1/2 cup chopped grass pinch of salt 1/4 teaspoon baking powder

1/2 cup sugar 2 tablespoons corn syrup 1 square melted chocolate 1 teaspoon vanilla 1/2 cup chopped nuts

Sift flour, baking powder, and salt together. Mix shortening,

sugar, honey, syrup, and egg. Then blend in chocolate and other ingredients, and mix well. Spread in an 8-inch pan and bake for 20 minutes at 350 degrees.